Overwatch League Playoffs Start Today; New Fan Engagement Features Announced
The postseason has arrived! The Overwatch League 2020 Playoffs begin today with two weeks of online matches split into two regional brackets – with 13 teams playing in North America and 7 in Asia. Check out the postseason hype video here. Playoffs open with single-elimination play-in matches among the lowest seeded teams to earn their spots in a double-elimination playoffs bracket. After two weeks of playoffs, the final four remaining teams will do battle in the 2020 Grand Finals (October 8-10)! TEAMS TO WATCH: It's a new meta with barriers tuned down and the margin of error reduced for tank players. At2:00 p.m. PT today, the Washington Justice (4-17) will face off against the Vancouver Titans (6-15). Both teams are near the bottom of the Overwatch League season standings, with Vancouver holding the #11 seed and Washington at #12. As such, the teams will play in a single-elimination matchup to decide who will progress in the playoffs and who will be left training for a 2021 season comeback. While both teams' standings may not breed fear into the hearts of higher seeded teams, don't be quick to underestimate the Washington Justice, who recently added star DPS player "Decay" to their roster (formerly of the Dallas Fuel). Thursday's matchup is guaranteed to be an all-out slugfest, with both teams putting everything they have on the line in hopes of playoff advancement. On Sunday, double elimination play begins and the top four North America teams return to action. The Philadelphia Fusion ended the season in impressive fashion, shutting out the San Francisco Shock 3-0 to clinch the top seed in the bracket over the Shock. The Fusion are strong across the board, with MVP candidates in damage dealer "Carpe" and support rookie "Alarm" but also have a pair of former All-Star off-tank players in "Poko" and "Fury" who could both see time in the new meta. Philadelphia plays its first match on Saturday and will be able to pick its opponent from those who survive Thursday and Friday's single-elimination knockout rounds.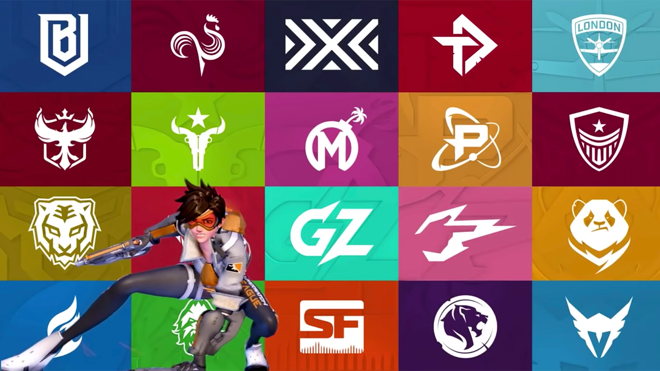 FAN FUN: New to Overwatch League 2020 playoffs, fans will now be able to cheer on their favorite team like never before. Here are a few ways that fans can stay digitally connected during this week's playoffs:
Fan Tweet Cam: fans who tweet using a #crunchtimecam hashtag + an abbreviated team name will instantly be sent a live photo of the selected team and their competition space. For example, tweeting #crunchtimecamATL will get you a live shot of the Atlanta Reign competing. Here are all the team abbreviations to add to #crunchtimecam: ATL, BOS, CHD, DAL, FLA, GZ, HAN, HOU, LON, LAG, LAV, NY, PAR, PHI, SF, SEO, SHD, TOR, VAN, and WAS.

The Fan Tweet Cam is limited to four total matches: the three NA matches on September 12-13 and the championship match.

On-stream Overlays: Exclusive to overwatchleague.com, additional functionality will be available to viewers during the live broadcast. Fans will be able to digitally cheer for their favorite team, engage in polls, make match predictions, view team stats, and access the OWL store.
Bracket Contest

Fans who think they know how the playoffs will play out can sign up for the Bracket Challenge and a chance to win US $100,000.

Fan Download Center: wallpapers, icons and banners from all 20 teams favorite team – and everything is completely free!
League Tokens: fans can earn League Tokens by turning into postseason matches on YouTube to use for in-game Overwatch League team skins!
nCore Games to Launch FAU:G – A Multiplayer Action Game