Build 4,000 Years of History: Dotemu Announces Pharaoh: A New Era, a Full Remake of Classic City Builder Pharaoh
Publisher Dotemu ( Streets of Rage 4, Wonder Boy ) and developer Triskell Interactive ( Lethis series ) announce the return of one of gaming's best historical city builders ever created, Pharaoh. Revealed today during Gamescom 2020, fans will be able to rule the Nile in 2021 on PC. 
First released in 1999 by Impressions Games and published by Sierra Entertainment, Pharaoh puts players into the role of an Egyptian ruler. Plan and execute the construction and management of cities as well as settlements in ancient Egypt and oversee every aspect of life within your borders. Juggle resources and strategize the administration of your empire to ensure that citizens are fed, employed, healthy and protected.
Pharaoh: A New Era is being developed with all-new code and, like a good city builder, from the ground up ( see what we did there? ) from Dotemu and Triskell Interactive brings all-new 2D graphics with brand new UI and improved mechanics to the game, and will include the 2000 expansion, Cleopatra: Queen of the Nile. Packing more than 100 hours of gameplay, Pharaoh features 53 missions and a full map and mission editor, making the classic an immediate must-have for 2021.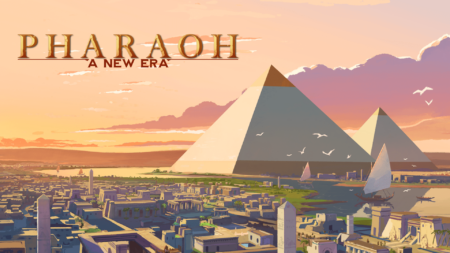 Pharaoh presents two modes of play, Campaign and Free Build. In campaign mode, players focus on establishing cities during different periods of ancient Egypt, building up trade centers, grand cities, tombs and pyramids, and fabulous monuments for various ancient Egyptian leaders. Players operate in six periods of ancient Egyptian history, with the first period serving as the game's tutorial. In later periods, players get a choice between two missions – one being a peaceful mission, the other being more military in nature.
Would-be rulers can keep up with Pharaoh by following Dotemu on Twitter or joining the official Discord server.
---
About Triskell InteractiveTriskell Interactive is a French video game studio founded in 2014 because of its creators' desire to professionalize their previous years as hobbyist developers. Triskell has since self-published two games, Lethis – Path of Progress and Lethis – Daring Discoverers, both recognized for their gorgeous 2D graphics, their strong visual style becoming the signature of the studio.
About Dotemu
Dotemu is a French video game company specializing in modern releases of beloved retro games. Their mission is simple: give every gamer access to yesteryear's classic video games on today's platforms, including PC, mobile, console and more. Working alongside the world's most cherished and recognized publishers, the Dotemu team has published a number of global top-sellers across both PC and console including Streets of Rage 4, Wonder Boy: The Dragon's Trap , with additional development and publishing work on Windjammers 1 and 2, several games in the Ys series, and more.
Founded in 2007, Dotemu leverages its considerable technological know-how to maintain the original spirit of classic games while giving them a second life as rediscovered gems for a new generation of gamers.) 
Meet the Houses of Necromunda: Underhive Wars in the Tactical RPG's Newest Trailer