Discover or revisit these timeless classics on PlayStation 4 and Nintendo Switch!
Calling all retro-gaming fans! Two cult classics from the 90's are back. Flashback and Another World, respectively created by Paul Cuisset and Eric Chahi, are now united in a bundle available as of today in Europe.
This edition contains the following:
The digital soundtrack for both games
2 pieces of artworks for each game
A reversible cover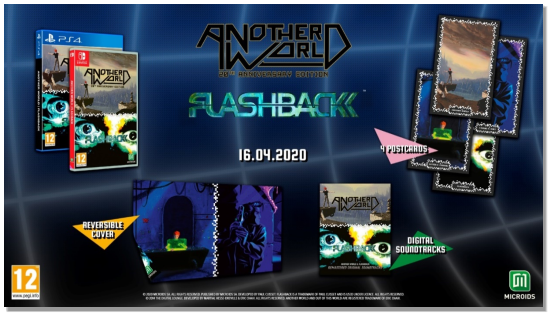 About Another World
Also known as "Out Of This World" in the United States and "Outer World" in Japan, Another World™ has developed a cult status among critics and gamers for its innovative gameplay and avant-garde cinematography.
Story
Another World™ recounts the adventures of Lester Knight Chaykin, a young scientist who travels through time and space when a nuclear experiment goes wrong. He arrives on another planet, where he will have to fight for survival, surrounded by hostile creatures. He will befriend an alien and only by working together, they will regain their freedom. You'll need to be logical and highly skilled to overcome this adventure's obstacles.
Content of the 20th Anniversary edition:
HD visuals, faithful to the original designs
3 levels of difficulty: Normal, Difficult (the original game's level) and Hardcore
A more immersive experience: choose between the remastered soundtrack and FX, the original sounds and the original CD soundtrack
Upgrade from the original graphics to FULL HD
About Flashback
Story:
Often ranked in the top 100 games of all time, one of the world's greatest action adventure game is back!
2142. After fleeing in a spaceship, the young scientist Conrad B. Hart wakes up with amnesia on Titan, a colonized satellite of Saturn. His enemies and kidnappers are hot on his heels and he must find his way back to Earth, all while defending himself from various dangers and preventing aliens from destroying the planet.
New content and features:
For the first time, play the Director's Cut version (2 exclusive cut scenes)
White or pink? Choose one of the two historic colors of Conrad's T-shirt
Play any level you've completed during the adventure
Replay the cut scenes you've watched during the adventure
Jukebox: enjoy the game's music on demand
Street Art Gallery: earn points during the adventure to unlock artworks
Graphics filter and Post-FX
Remastered music and sound effects
A brand new "Rewind" function which lasts for different lengths of time, depending on the difficulty level
Tutorials
KONAMI POSTPONES UEFA EURO 2020™ UPDATE FOR eFootball PES 2020