The game's latest free content updateprovides a demanding, high-level challenge for all players. Plus, a new patch modifies Mayhem Mode 2.0, Borderlands 3's end-game leveling system.
Takedown at the Guardian Breach – a new endgame gauntlet designed to put your skills and gear to the ultimate test – is now available as a free addition to the Borderlands® 3 base game.
All the need-to-know info about Takedown at the Guardian Breach, available now as a free addition to the Borderlands 3 base game.
Ready for another endgame challenge, Vault Hunter? Takedown at the Guardian Breach is now part of Borderlands 3 as a free addition to the base game, offering a gauntlet of elite enemies and fearsome boss encounters that'll put your skills and loadout to the test. Even if you've conquered armies of cybernetic soldiers and killer mechs in Takedown at the Maliwan Blacksite, the Eridian opposition you'll encounter in Takedown at the Guardian Breach presents an entirely new kind of threat.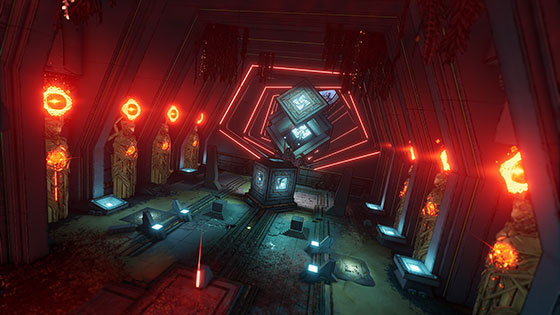 Making it to Minos Prime
This particular Takedown takes place on the distant planet of Minos Prime. Sanctuary III's resident Eridian expert Patricia Tannis sends you there to investigate a mysterious Guardian signal—but she didn't count on hordes of hostile Guardians awaiting you. A sect of rogue Guardians has taken over Minos Prime and reshaped it, shattering the planet into pieces and covering it with ominous architecture akin to the obelisks and statues found on Nekrotafeyo. You'll have to fight back against these ancient beings as you traverse the fractured landscape in search of answers.
Takedown at the Guardian Breach functions just like Takedown at the Maliwan Blacksite when it comes to customizing your preferred level of challenge. Takedowns will scale to your party size, so you can tackle them solo or in a group of any size; that said, they're primarily designed with a full party of four well-geared, max-level Vault Hunters in mind. If you're in a need of a group, head to the Social menu for online matchmaking powered by SHiFT. You could also link up with like-minded players over on the
In order to access Takedowns, you'll need to have finished the main story campaign. But it's highly recommended that you only take them on after you've hit max level, found a build that suits you, and have a weapon and gear loadout that powers up that build's strengths. For the ultimate test, you can activate True Takedown Mode by flipping a switch near the first door on Minos Prime, which tunes the encounters to challenge a full party of four tightly coordinated players. And of course, you can up the ante further with Mayhem Mode; in multiplayer, the host's chosen Mayhem Level will affect the entire party.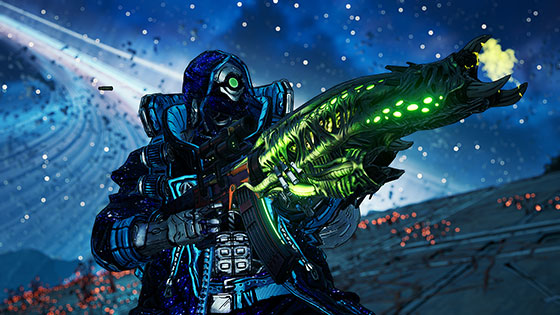 Conquering the Guardian Breach
Along with flying enemies, agile Guardian warriors, and aggressive alien creatures, you'll have to overcome some platforming challenges in Takedown at the Guardian Breach. Minos Prime's fractured state has created giant gaps in the environment, and you'll have to cleverly use the planet's low gravity and momentum-boosting jump pads to cross vast expanses of space. Similarly, environmental puzzles will test your coordination and perceptiveness before you can proceed.
If anyone in your party is downed and doesn't get revived in time, they'll be out for good unless you reach Takedown at the Guardian Breach's midway checkpoint after beating the mid-boss. Hopefully your whole party is still standing by the time you make it to the final boss, because you'll need all the help you can get.
Those who survive Takedown at the Guardian Breach can look forward to some sweet rewards, including Legendary weapons, grenade mods, and shields you won't find anywhere else. There are also some swanky cosmetics to collect, including Vault Hunter skins, an ECHO Device skin, and Emotes for your character. As with Takedown at the Maliwan Blacksite, you'll have to run through Takedown at the Guardian Breach multiple times if you hope to acquire all of its best items. We hope you enjoy this second Takedown, and wish you luck in your pursuit of all the new Legendary gear!
RPG Miden Tower for Nintendo Switch™