Discover the gorgeous Beyond a Steel Book & Utopia retail editions, now available for preorder!
Studio Revolution Software, creators of the popular Broken Sword series, and publisher Microids, are delighted to announce that Beyond a Steel Sky will launch November 30 on PlayStation 5, PlayStation 4, Xbox Series X|S, Xbox One consoles and Nintendo Switch.
From Charles Cecil, creator of the Broken Sword series, with art direction by Dave Gibbons, legendary comic book artist behind Watchmen, Beyond A Steel Sky is the spiritual successor to the classic Beneath a Steel Sky, launched more than two decades ago
Beyond a Steel Sky stands as a thrilling story of loyalty and redemption set in an eerie and terrifying world of AI-driven social controls. Set a decade after the events of the first game, Beyond a Steel Skyimmerses players once again in the captivating Union City – a dystopian cyberpunk city full of mysterious, sinister secrets.
With Dave Gibbons's breathtaking comicbook art style, the game is a hugely ambitious adventure which redefines the genre by allowing the player to subvert the world, populated by AI-driven characters, with interesting solutions to puzzles emerging from their actions.
Key features:
A fascinating sci-fi world – An adventure set within a dynamic world, populated by willful characters driven by motivations that the player can subvert. In combination with a unique hacking tool, multiple solutions to puzzles emerge from player choices.
A thrilling story full of humor – Unravel dark conspiracies, defeat a terrifying antagonist in this dramatic, humorous, cyberpunk thriller, which explores contemporary themes: social control, AI, and total surveillance.
A unique 3D comic book art style – A beautifully detailed, comic-book styled world, from the mind of legendary comic artist Dave Gibbons.
Ingenious puzzles – Intelligent puzzles are interwoven with an intriguing dramatic narrative to deliver a compelling gameplay experience.
"I am thrilled to be able to open the gates to Union City once more, and welcome console players to Beyond a Steel Sky which launches this winter." says Charles Cecil, Founder and CEO of Revolution Software. "It has been a pleasure and privilege to have had the opportunity to collaborate with Dave Gibbons again in bringing Robert Foster back after an absence of two decades – and what an extraordinary change there has been!"
Check out the game's Beyond a Steel Book and Utopia Editions!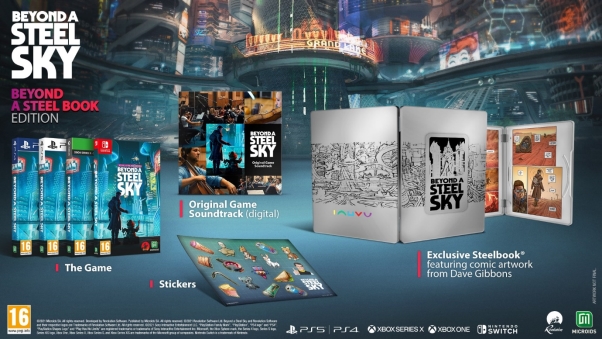 The Beyond a Steel Book Edition contains:
An Exclusive Steelbook® featuring comic artwork from Dave Gibbons
The game's Original Soundtrack (digital format)
A Sticker Sheet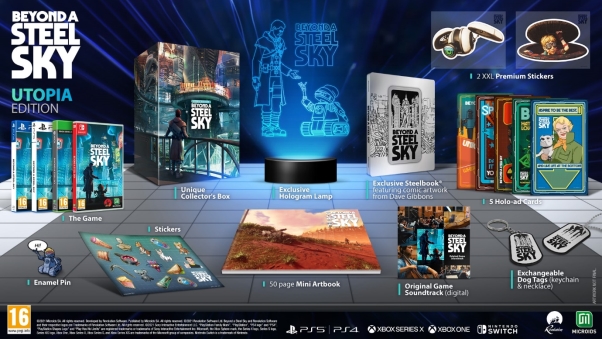 Here is the content of the Utopia Edition:
A Unique Collector's Box
An Exclusive Hologram Lamp
An Exclusive Steelbook® featuring comic artwork from Dave Gibbons
A 50-page Mini Artbook
The game on PlayStation 5, PlayStation 4, Xbox Series X|S, Xbox One or Nintendo Switch
The game's Original Soundtrack (digital format)
5 Holo-ad Cards
Exchangeable Dog Tags (keychain & necklace)
A Sticker Sheet
An Enamel Pin
2 XXL Premium Stickers
Crysis Remastered Trilogy will launch on October 15th