Hearthstone Grandmasters returns for Season 2 on August 14!
earthstone Grandmasters returns for Season 2 beginning August 14! Season 2 will run every Friday, Saturday, and Sunday through September 6, with a break for Masters Tour Online: Montreal before picking back up starting Friday, September 18 – October 11. Ten new competitors have advanced to Grandmasters Season 2, including a promotion to Americas for Killinallday. Here's everything you need to know to keep up with this season's Grandmaster action!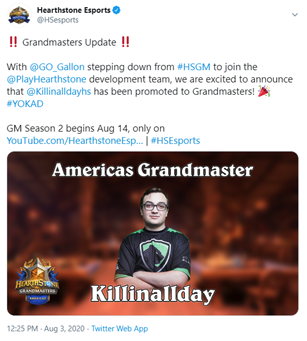 Details
Dates: Friday, Saturday, Sunday – August 14 – September 6 and September 18 – October 11, 2020 Broadcast Start Time: Broadcast kicks off with the Asia-Pacific region playing at 2 a.m. PDT / 11 a.m. CEST / 6 p.m. KST on Friday, August 14 Where to Watch: YouTube.com/HearthstoneEsportsCasters:
Prize Pool: Over $500,000 in prizing globally for Grandmasters Season 2 Language Streams on YouTube:
Format
Weeks 1 – 3: Swiss into Group Stage During weeks 1 – 3, players will compete in matches in a Swiss format each Wednesday and Thursday of the week to earn a placement in the weekend Group Stage. Points from these weekend rounds will be used to determine two Divisions in each region for round-robin weeks. There will be a different gameplay format each week.
The 16 players in each region will compete against each other off broadcast in 7-9 Swiss Rounds during the week.
On Thursday, after Swiss play has completed, the field is cut in half based on standings and the Top 8 per region will play in a dual tournament format live on YouTube across Friday and Saturday, with the Top-4 finals played out on Sunday.
Gameplay format changes every week:

Week 1: 7 Rounds of Swiss, Conquest with 1 Ban
Week 2: 7 Rounds of Swiss, Four Deck Last Hero Standing with 1 Ban
Week 3: 9 Rounds of Swiss, Bo3 Specialist
Weeks 4 – 7: Round Robin Weeks 4 – 7 will consist of round-robin group play within the two divisions in each region – much like Season 1 of Grandmasters.
Following weeks 1-3, players will be sorted into two divisions based on their points standings. Division A is comprised of the top-8-point-earning players, and Division B will be point total ranks 9-16.
The two divisions compete in round-robin group play over four weeks. The standings at the conclusion of these weeks will determine who will move onto the Playoffs, and who will be relegated from Season 2.
The format will stay consistent during round-robin weeks:

Bo5 Conquest (4 decks, 1 ban)
Week 8: Season 2 Playoffs Round Robin weeks lead into Week 8 Playoffs, which will qualify one player per region to the World Championship at the end of the year, while three players from each region will be relegated.
Top 6 from Division A automatically make it into Playoffs.
Top 4 from Division B compete in a play-in round to determine who will join the top 6 from Division A in a dual tournament bracket for Playoffs.
The 7th and 8th placed players in Division B at the close of Round Robin are automatically relegated from Season 2 of Grandmasters.
Final relegation will be determined via a 3-match Play-In involving the 7th and 8th placed from Division A, and 5th and 6th placed from Division B.
The winner from each region in Season 2 Grandmasters Playoffs will advance to the Hearthstone World Championships later this year.
Please visit the Rules and Policies page on the Hearthstone Esports website for more information about rules and prizing for Season 2 of the 2020 Grandmasters program.
AMERICAS
Brian "bloodyface" Eason
Brian "Briarthorn" Schneider
Eddie "Eddie" Lui
Guillermo "Empanizado" Tolosa
Fei "ETC" Liang
James "Firebat" Kostesich
Frank "Fr0zen" Zhang
David "killinallday" Acosta
David "justsaiyan" Shan
Mihai "Lnguagehackr" Dragalin
Jerome "Monsanto" Faucher
Muzahidul "muzzy" Islam
Facundo "Nalguidan" Pruzzo
Luke "NoHandsGamer" Kooken
Ramiro "Rami94" Ponce
Paul "Zalae" Nemeth
ASIA-PACIFIC
Alan "Alan870806" Chiang
Yashina "Alutemu" Nozomi
Poramet "Bankyugi" Putchakan
Ng "blitzchung" Wai Chung
Cheonsu "che0nsu" Kim
Jang "Dawn" Hyun Jae
Hyun-Soo "Flurry" Cho
Sato "glory" Kenta
Tsz Kin "Kin0531" Lo
Wataru "posesi" Ishibashi
Sim "Ryvius" Dasol
Wei-Chieh "Shaxy" LiuJung-Soo "Surrender" Kim
Li "TIZS" Ching-Li
Wei-Lin "Tom60229" Chen
Tyler "Tyler" Hoang Nguyen
EUROPE
Romaric "AyRoK" Dubois
George "BoarControl" Webb
Elias "Bozzzton" Sibelius
Raphael "Bunnyhoppor" Peltzer
Kevin "Casie" Eberlein
Theo "Felkeine" Dumont
Jaromir "Jarla" Vyskočil
Dima "Rdu" Radu
Linh "Seiko" Nguyen
Vladislav "SilverName" Sinotov
Joffrey "Swidz" Cunat
Thijs "Thijs" Molendijk
Torben "Viper" Wahl
Enzo "Warma" Flock
Zakarya "xBlyzes" Hail
Martin "Zhym" Prête
Alter Your Face and Modify Your Voice with Voicemod Clips – Available Now on Google Play